Designing your home can be challenging, especially if you are just relying on online images and magazines. Wouldn't it be great if you can actually see the result of your design ideas before you start painting your home?
How to Use the Sherwin Williams Colorsnap Tool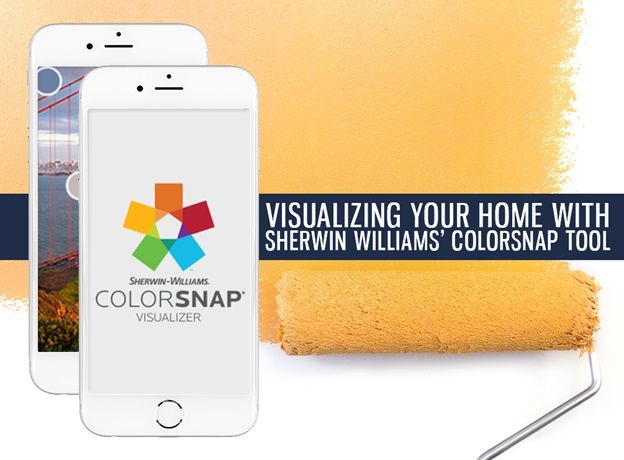 Fortunately, you can rely on Nelson Exteriors. We are the expert in exterior house painting in Atlanta, GA, serving all cities in the Metro Area, who can help design your home. As a partner of Sherwin Williams, we recommend using their ColorSnap visualizer tool. This will help you get you an actual visual image of your design ideas, giving you an idea of what color combination works best. Let us show you how it works.
Step One - Click on Explore Color
This unique tool lets you choose a combination that consists of a main color and accent. This will be your home's predominant color, so choose one that will work well with your home's main design. Clicking on the tab will provide you with three options - Digital Color Wall, Color Collections, and Match a Photo.
If you have a photo of your Atlanta home, then simply go for Match a Photo and upload it to see how it suits your choice of paint. Otherwise, you can select from a catalogue of colors that you can find in the other two options. Your choices include color families, historic colors found in Digital Color Wall and 2016 Pura Vida, 2016 Mas Amor Por Favor found in Color Collections.
Step Two - Get Inspired
If you think you need more tips for choosing home interior paint colors, then go over to the Get Inspired tab. It offers these three sub-options:
• Painted Scenes - This gives you a visual of different rooms and provides you with design options you can experiment with. For instance, choose a living room image and paint it with the colors you have in mind.
• Expert Color Picks - Choose from an array of professional design to serve as your inspiration, such as Rosedust, Outgoing Orange, and Gulfstream.
• Inspirational Photos - Similar to the Match a Photo found in the Explore Color tab, this gives you the chance to use a variety of pictures as your playground.
Step Three - Paint a Scene
Lastly, this option will give you the opportunity to use pre-uploaded images or your own photos. You can also count on the design experts at Nelson Exteriors to provide you with unique ideas in beautifying your home.
Let Nelson Exteriors of Marietta help realize your dream home with the visualizer tool from Sherwin Williams. Call us today at (678) 283-8171 for a free in-home estimate.