BRAZILIAN HARDWOOD SIDING ATLANTA

BEAUTY & DURABILITY
Brazilian hardwood siding is a popular choice with homeowners in Marietta, GA and Metro Atlanta. Combined with a Climate-Shield rain-resistant system, this type of wood siding offers strength, durability, fire resistance, and natural beauty to boost your home's curb appeal and enhance your property's value.

Are you considering Brazilian hardwood siding for your home in the Atlanta metro area? Contact us at Nelson Exteriors, your local siding installers, for a free quote.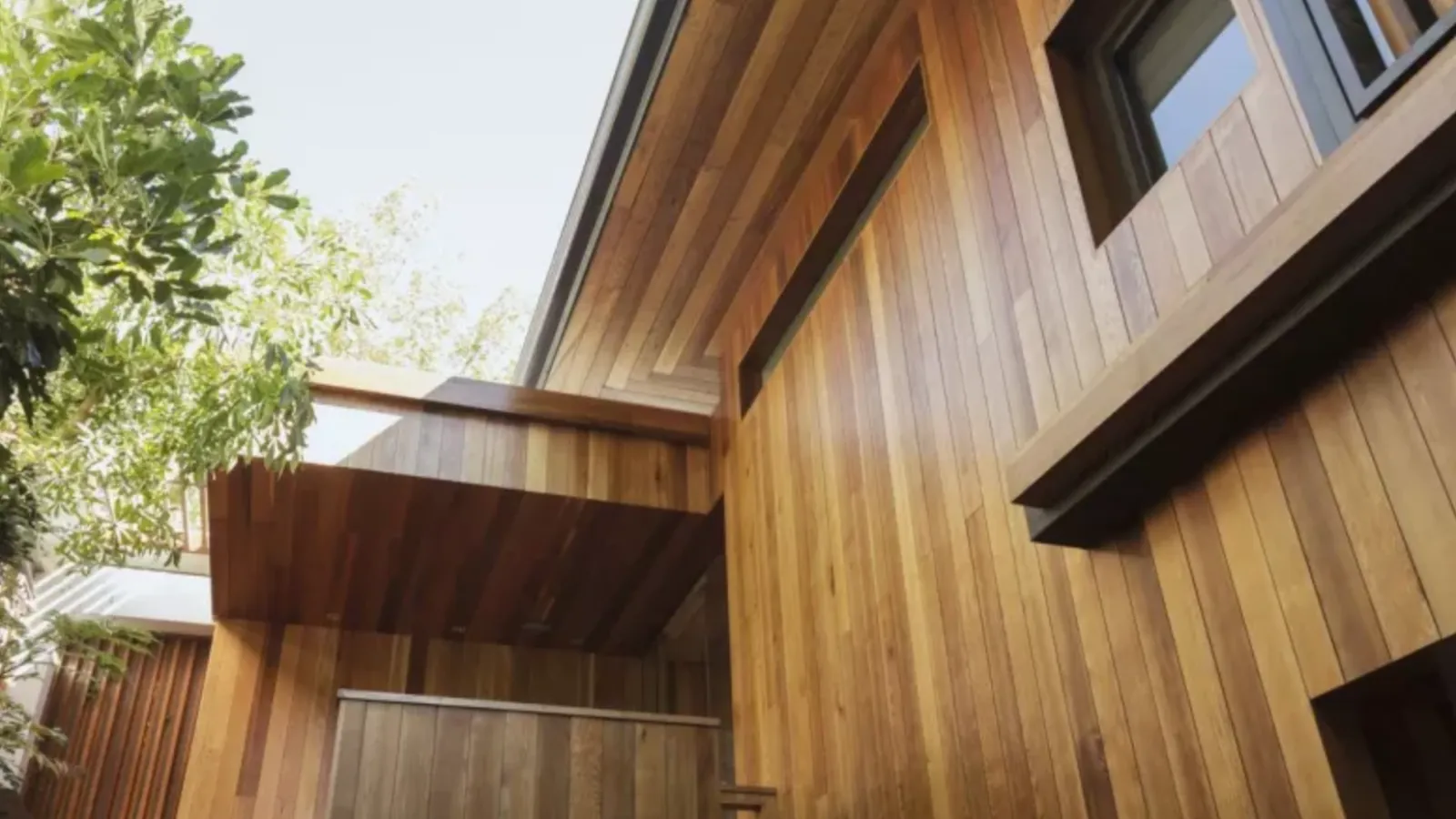 READY TO UPDATE
YOUR SIDING TO BRAZILIAN HARDWOOD?
If you need a Brazilian Hardwood Siding installer in Marietta, GA or the Atlanta Metro Area, look no further than Nelson Exteriors. Give us a call today at (678) 283-8171 or use our online contact form to get a free quote.
WHY CHOOSE US FOR
BRAZILIAN HARDWOOD SIDING INSTALLATION
Your home is likely your biggest investment, so you want to be sure you entrust your wood siding project to a reputable local professional. Homeowners in the Atlanta metro area choose us at Nelson Exteriors for our:
Reputability: We're a family-owned, family-operated business with over four decades of experience in exterior renovations.

Excellence: We employ highly trained, detail-oriented siding professionals and use high-quality materials.

Service: As our client, you'll enjoy fast, responsive service and a fully transparent work process.

Value: Our competitive prices will ensure you get top value on your investment.
BENEFITS OF BRAZILIAN HARDWOOD SIDING

There are many excellent reasons to install siding made of Brazilian hardwoods. This type of siding is:
Attractive: As a siding material, hardwood offers a stunning appearance. Whether you're aiming for a traditional or modern look, the beauty and style of hardwood can give your exterior a unique edge.

Durable: Hardwood boards are highly durable and will usually endure a lifetime of exposure to rain, sun, and any type of weather. The longevity of hardwood is comparable to long-lasting materials like fiber cement and engineered wood siding.

Fire-resistant: Unlike softer types of wood siding, hardwoods are naturally resistant to fire and withstand flames extremely well, especially when combined with a fire-retardant treatment.

Easy to install: Siding made of V-groove Brazilian hardwood boards with the Climate Shield rain screen system is quick and easy to put in place.

Easy to maintain: Aside from seasonal cleaning, hardwood boards require little maintenance, even when they're not painted. Once sealed, the wood siding will keep its beauty for decades, although you may choose to refinish your siding for a fresh look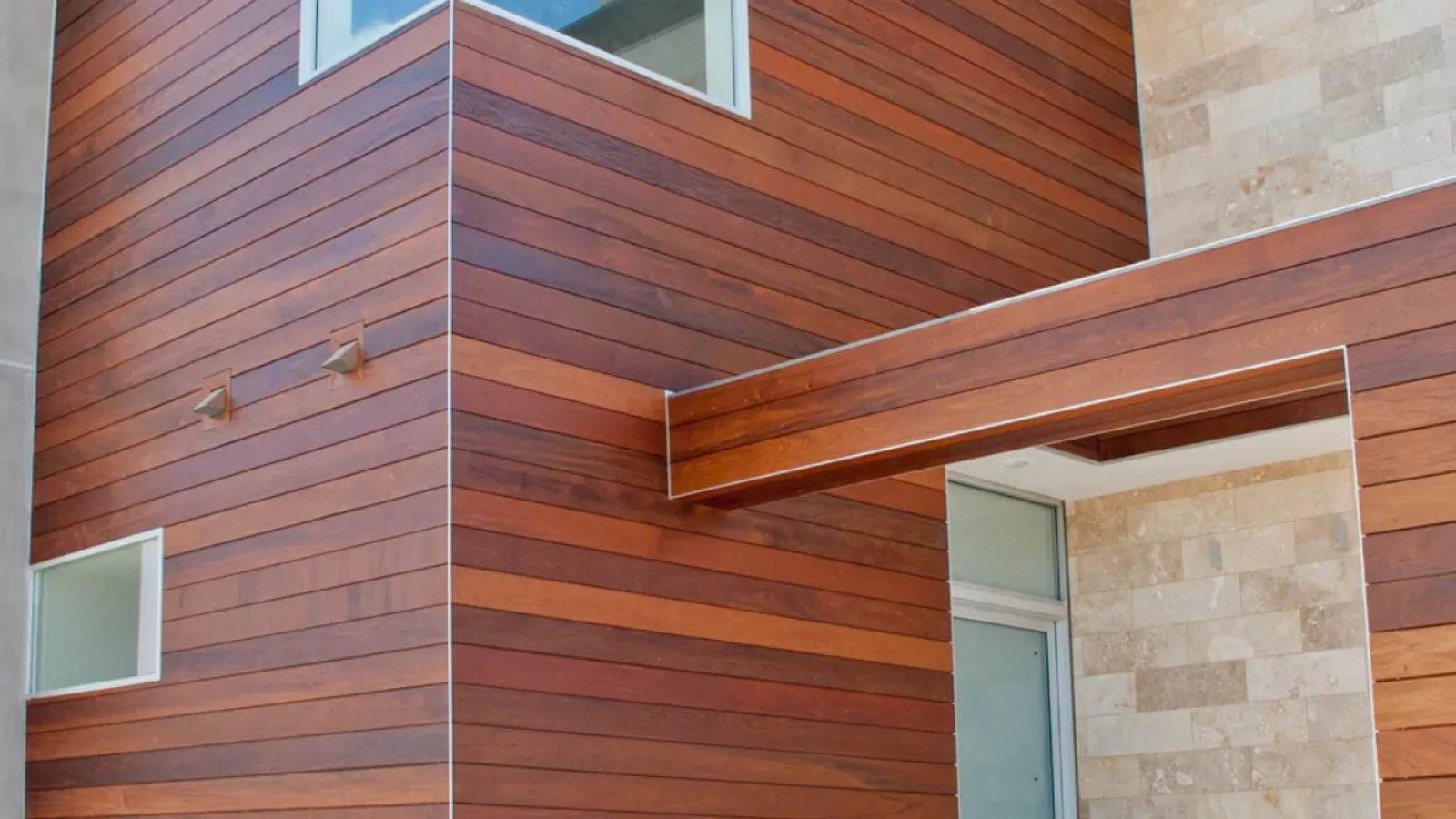 HARDWOOD SIDING OPTIONS

At Nelson Exteriors, we offer two types of high-density Brazilian wood siding in Marietta and the Atlanta metro area: Ipe wood siding and Cumaru wood siding.
Both Ipe and Cumaru are South American hardwoods originating from Brazil, Bolivia, and Peru. While very similar, these two types of siding have slightly different features.
Ipe Siding
The classic choice for Brazilian hardwood siding, Ipe siding is extremely hard and durable. Ipe siding is the golden standard for homeowners looking for a natural siding material that resists rain, sun, and insects. Ipe comes in a range of stunning naturally occurring hues, from dark brown to light brown and everything in between.
Cumaru Siding
Another type of high-density hardwood, Cumaru, also called Brazilian Teak, has a slightly coarser grain compared to Ipe. Ipe is harder and a bit more stable, but overall, Cumaru produces a similar durable and gorgeous hardwood siding boards that resist rain, fire, and insect damage.
Cumaru is a significantly more affordable wood siding option than Ipe, which makes it an increasingly popular choice with many homeowners.
CONTACT THE PROFESSIONALS AT NELSON EXTERIORS

Brazilian hardwood siding is the perfect choice for your home if you're seeking the traditional look and natural beauty of wood boards combined with high durability and resistance to insects, rain, and fire.
At Nelson Exteriors, we have over 40 years of experience installing wood siding with efficient rain-resistant Climate Shield systems.
Call us at (678) 283-8171 or contact us online for a no-obligation Brazilian hardwood siding installation estimate in Marietta and the Atlanta metro area.