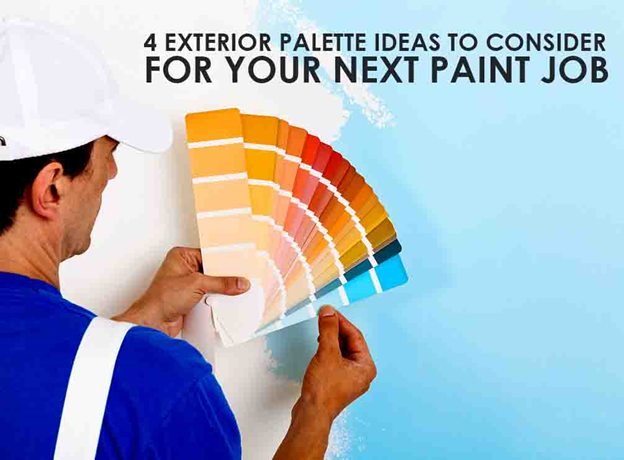 A lovely exterior palette can update the look of your home and increases its curb appeal. If you still have structurally sound deck, fence, and siding, a simple paint job would suffice to give your home a stunning makeover.
As the leader in exterior and interior painting services, Nelson Exteriors wants to share some brilliant ideas to bring back your home's lost beauty in no time:
1. Create a Bold Entry
Making your entry door arresting is one of the universal ways to make your home stand out. You can achieve this by picking a hue that stands in contrast with the rest of the house. For instance, a crimson or aqua front door adds a punch of color to a predominantly neutral exterior. Refraining from using a bold trim shade creates a restrained palette. As a result, your door would attract the eye and offer a grand entrance.
2. Contrast with the Landscape
Instead of blending in the environment, choosing a standout main color could catch some attention for your home. If you're surrounded by lush trees, seafoam green makes an excellent siding hue. A color several notches lighter than your landscapes creates the visual separation without being too jarring. If you take this approach for your exterior painting, white is a great trim and accent color.
3. Choose a Single Hue
Selecting just one hue doesn't necessarily create a boring home exterior. The trick is to vary the shades of one color to create visual harmony, while rendering minor details distinguishable. Painting your entry doors with a deeper hue can make them stand out and reconcile with the rest of the exterior at the same time.
4. Combine Classics
The combination of black and white is a timeless trend for great reasons. It works well with any architectural style, and you can guarantee its appeal. The usual approach in house painting in Marietta, GA, is choosing white over black as the main color. However, many homeowners love the trendy charm of a mostly dark exterior. After all, black is excellent in hiding imperfections, so it makes a great cover-up for concealing problem areas.
As a friendly word of caution, never use exterior paint inside your home! Always hire a professional when it comes to painting your property. Let Nelson Exteriors help you decide on the best exterior palette for your home. Call us now at (678) 283-8171 and tell us your ideas.