Having developed fiber cement siding over 30 years ago, James Hardie® has continuously pushed the envelope to be ahead of the competition. That has given rise to what became today's leading fiber cement siding. Here's how James Hardie siding in Atlanta fares against: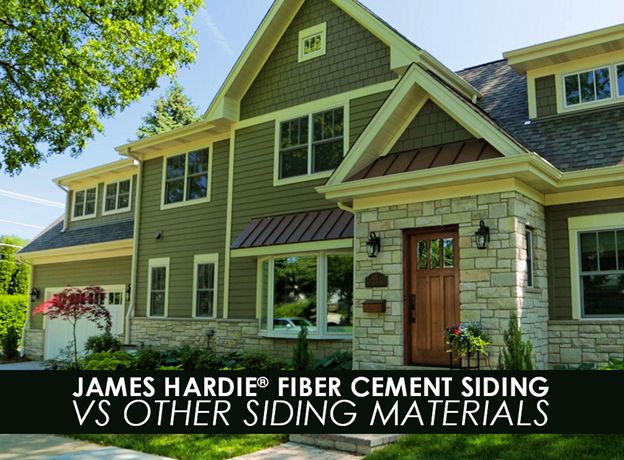 1. Vinyl — This remains a popular choice for homeowners, and is still offered by many siding contractors. Nevertheless, vinyl is vulnerable to heat: naked flame, extended exposure to sunlight, including reflected sunlight from windows with low emissivity (Low E) coating. Constant exposure to alternating external temperatures will take its toll and crack the vinyl. On the other hand, fiber cement siding is non-combustible and keeps its shape under extreme heat. Its added thickness — five times thicker than typical vinyl siding — allows deeper grooves and a more authentic wood grain effect.
2. Wood — This is susceptible to being eaten by animals and insects. It also absorbs water, which leads to water damage and mold growth. While there are available wood treatments that could inhibit water absorption, it doesn't do it 100%. As with vinyl, extreme temperatures can cause problems. James Hardie has the upper hand with products that resist all of the above, requiring less maintenance from you and your Marietta siding contractor.
3. Oriented Strand Board — Also known as wood composite or engineered wood siding, OSB is made from wood strands and resin, bonded under pressure and heat. Unfortunately, it has the same vulnerabilities as typical wood siding. James Hardie fiber cement siding does not share these problems, assuring you of its long-lasting performance.
4. Wood and PVC Trim — The trim is like the decorative piping: while it doesn't strengthen the structure, it makes the difference between a plain-looking and a well-maintained exterior. Whatever you do, don't skimp on the trim: wood trim, for instance, looks nice at first, but wouldn't last long with constant exposure to temperature changes. PVC, being a plastic product, has more or less the same vulnerabilities as vinyl. HardieTrim® boards, on the other hand, are engineered with the same standards as other James Hardie products
All James Hardie fiber cement products require no painting and virtually no maintenance, thanks to ColorPlus® Technology. This and other features are the reasons fiber cement siding replacement in Marietta is consistently recognized by Remodeling magazine. In fact, they consider is as #1 among home improvement projects with the most ROI for over a decade.
If you would like to know more about James Hardie products or our other services, including roofing and painting in Marietta, GA, call Nelson Exteriors at (678) 283-8171. You may also fill out our contact form for a free, no-obligation quote.